Monumenta is the name of a solo exhibt consisting of four projects: Sala dell'Obelisco, Nonumenti, Censimento Sentimentale and Souvenir Apocrifi.
Through the Monumenta exhibit I try to explore the borders and the ties between what is local and what is universal as much as those between what is individual and what is collective.
The work was thought out, designed and eventually produced specifically for the San Domenico museum of Imola through a public call for entries.
104 people try to draw the town's most famous monument by memory
Sala dell'Obelisco is presented within the largest of the four rooms that the show takes up. It is a crowd-sourced project through which I continue the research on the faultiness of human memory that began with Velocipedia. The story, very shortly, is this: in the early 2000's the local authorities decided that the town's most known monument, an obelisk in memory of the victims of WWI, was to be moved from the center of the town's main square to a nearby park. The decision got all the town arguing, dividing us between people who were totally in favor and people who were strongly against. Very few at the time seemed to have a moderate or controversial opinion. It took about 7 years to complete this operation so 2017, the year in which this project was presented, marked the tenth anniversary since the monument was re-inaugurated in its new location.
This is why I decided to seek the opinion and the memory of 100 randomly chosen fellow citizens. All were asked to tell me what their opinion regarding this obelisk was in the early 2000's and what they think now. Also, they were all asked to give the best representation of the obelisk by memory with pen and paper.
20 balsa wood models based on my favorite submissions
Alessandro, 27 – Realestate Agent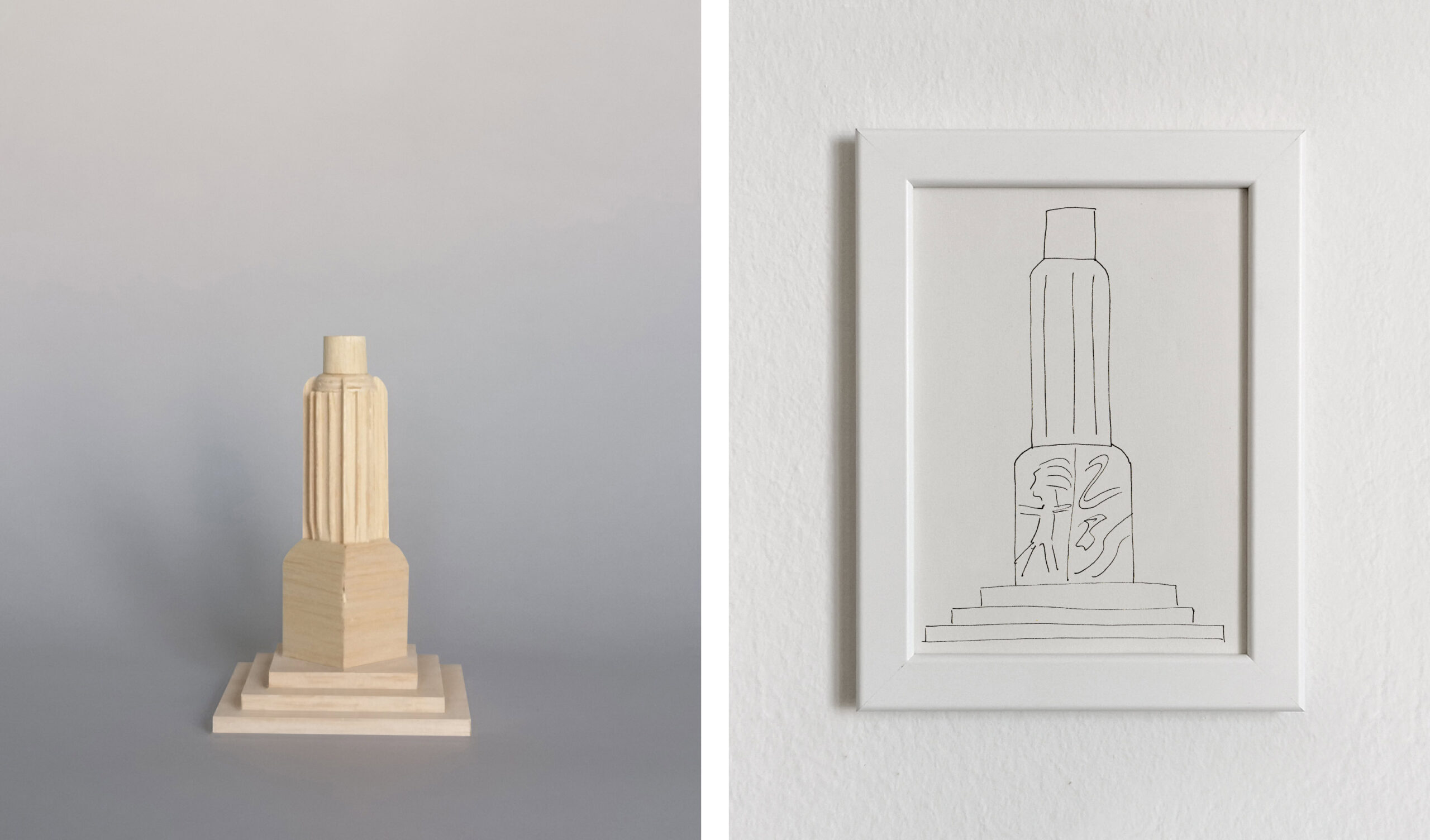 Lorenzo, 39 – Shop keeper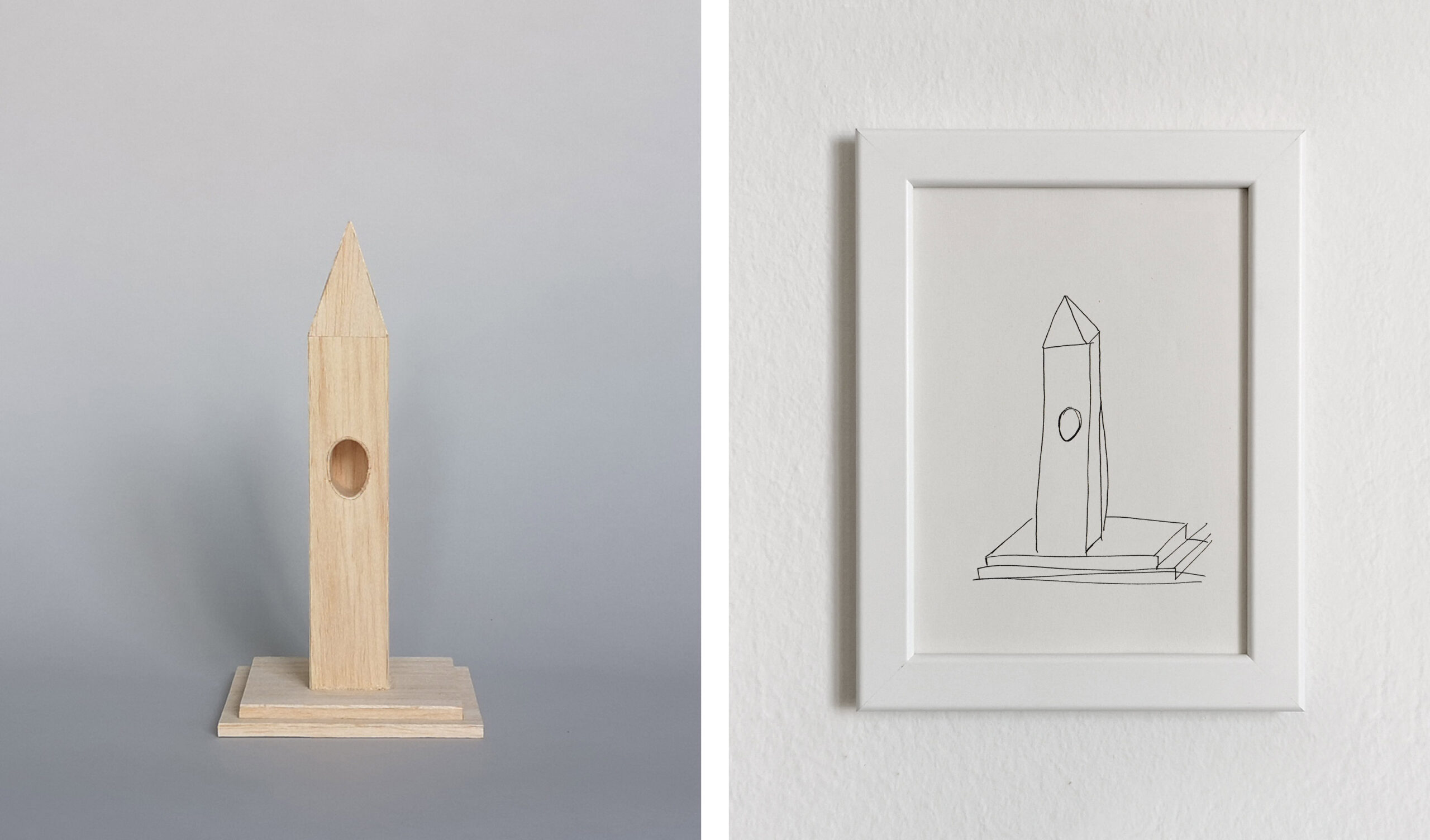 Andrea, 32 – Commercial Employee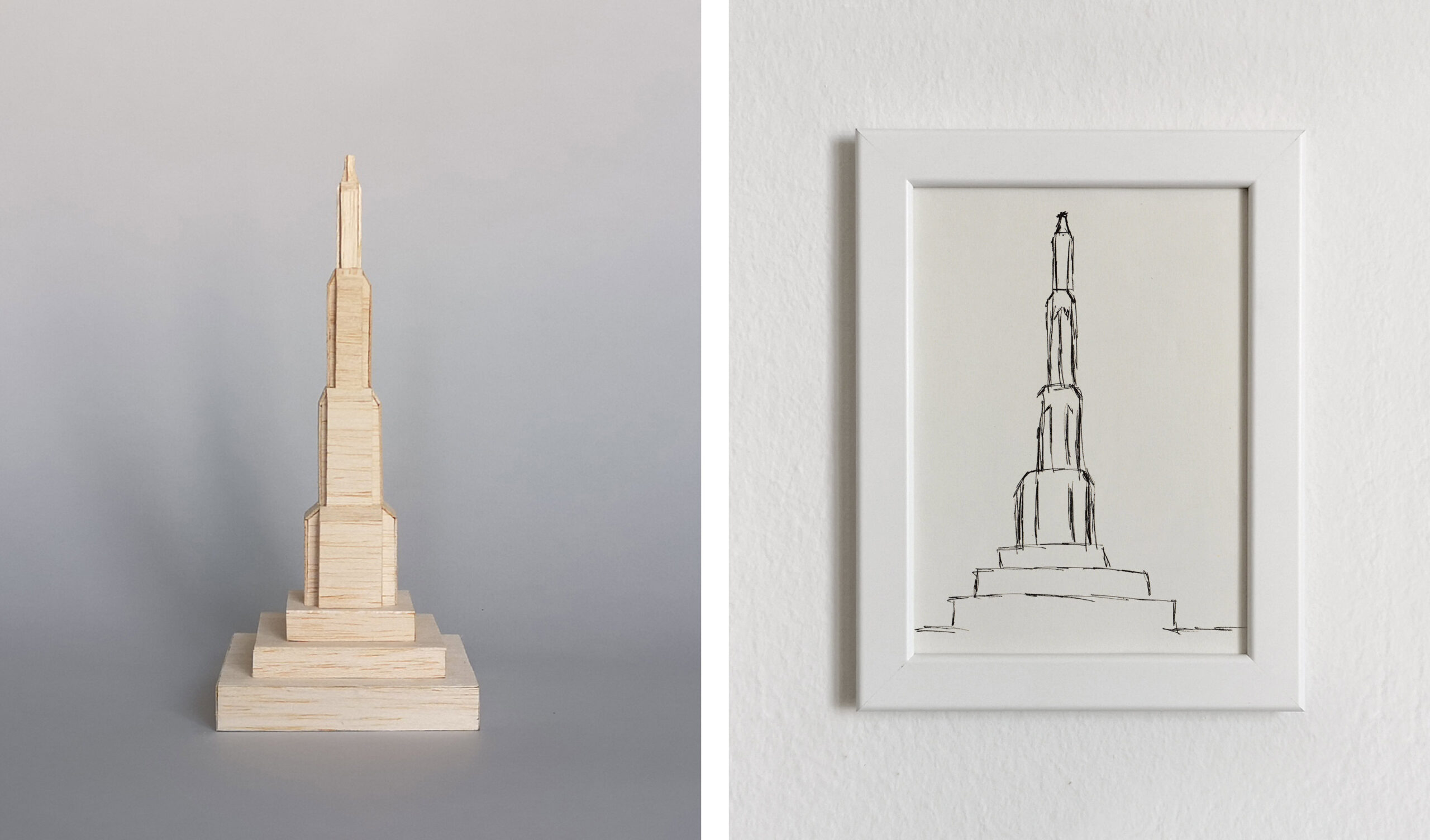 Franco, 47 – Security Guard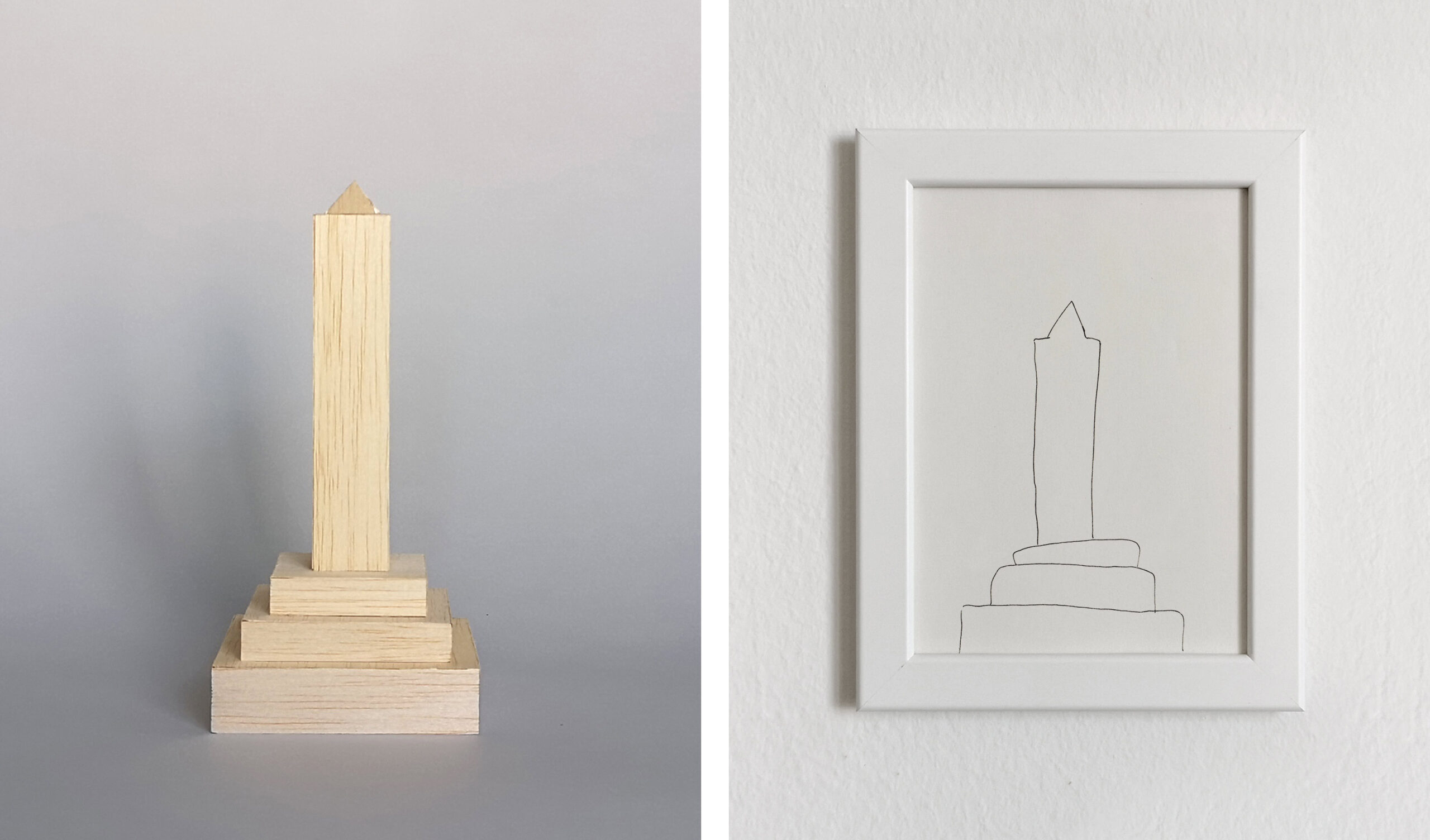 Maria Angela, 53 – Employee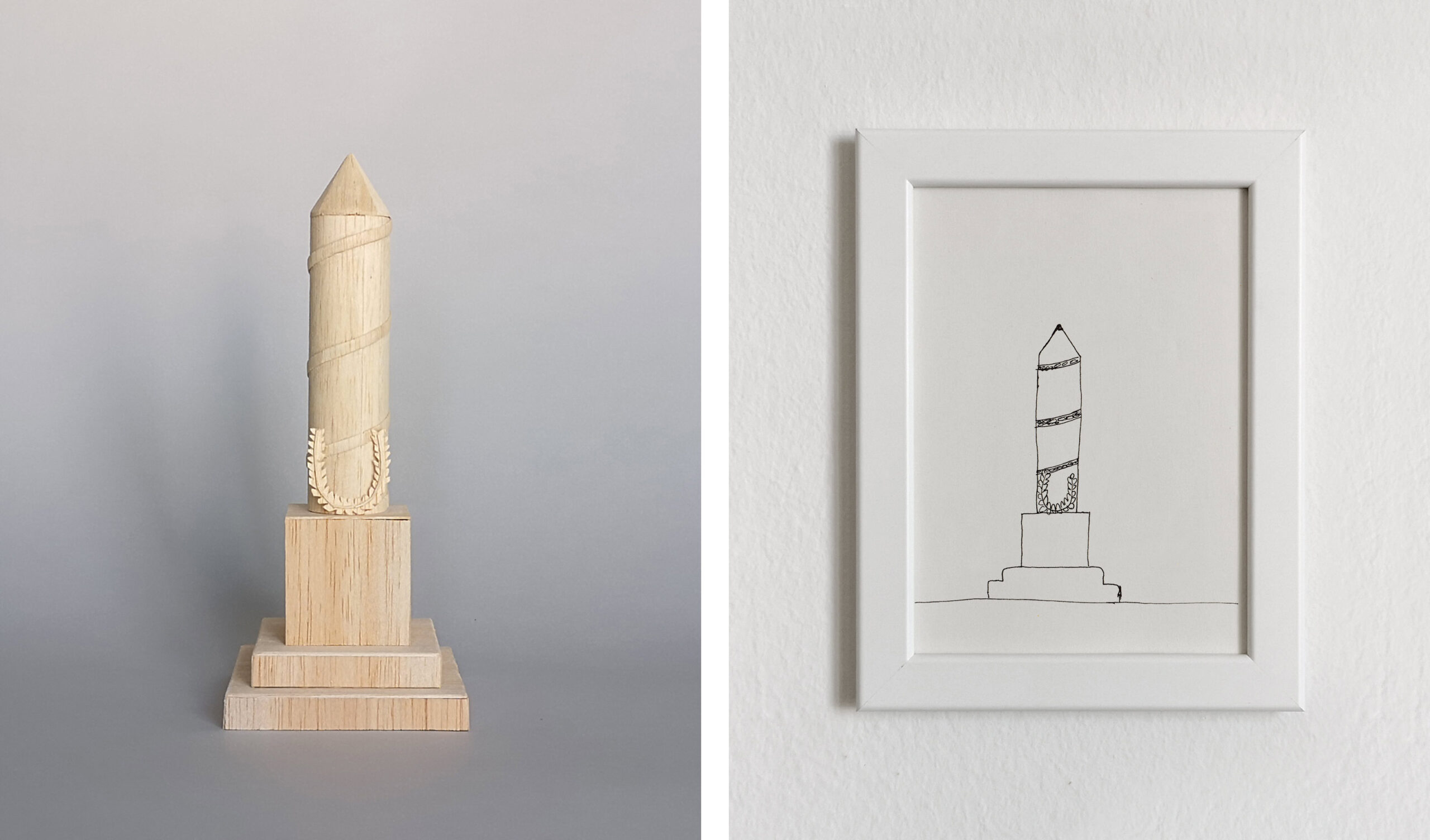 Sebastiano, 36 – Musician
Alessandra, 26 – Engineer
Claudia, 49 – Museum Curator
Inside Sala dell'obelisco the balsa wood models are displayed on small wooden shelves that were lended by All'Origine.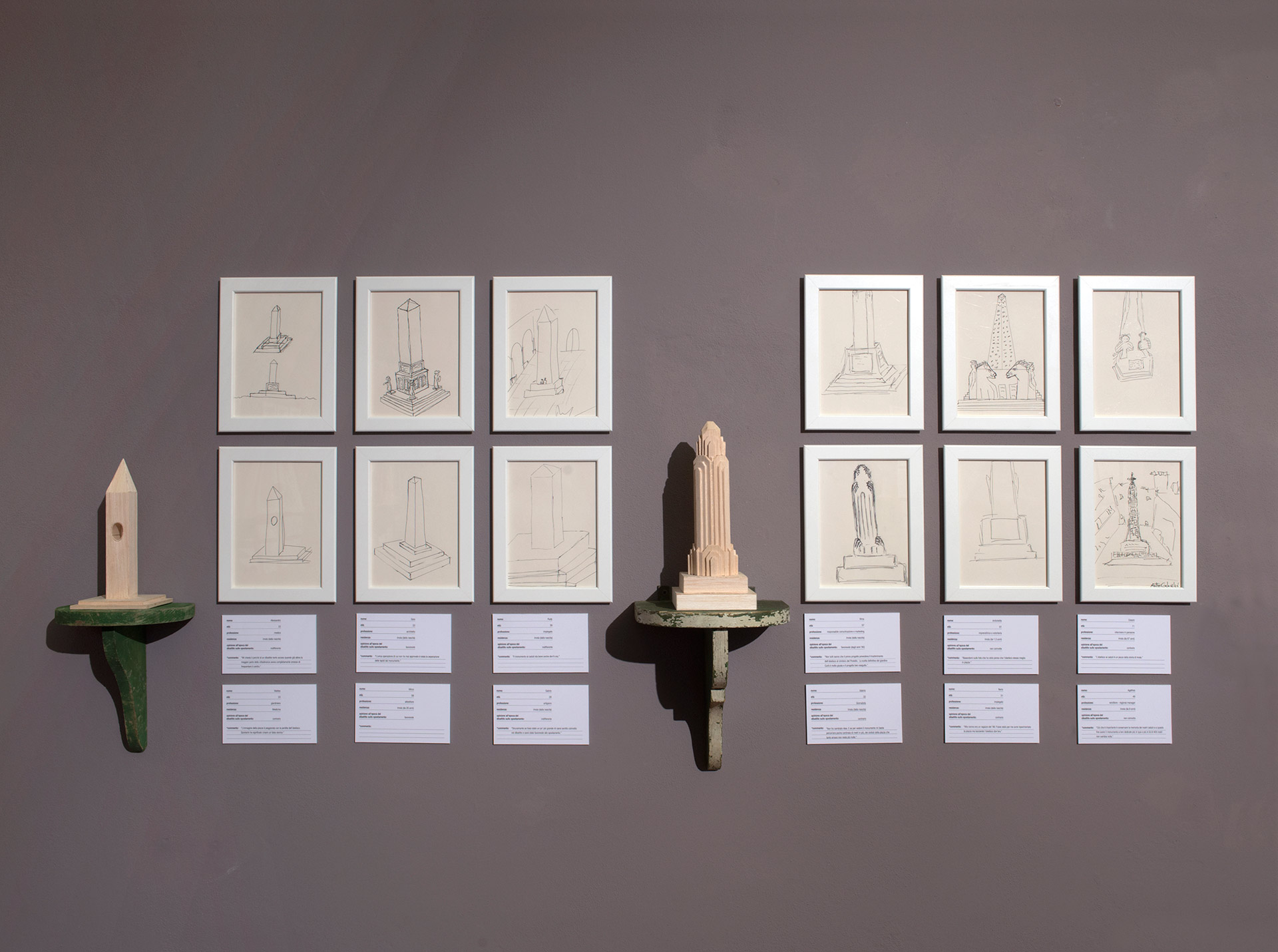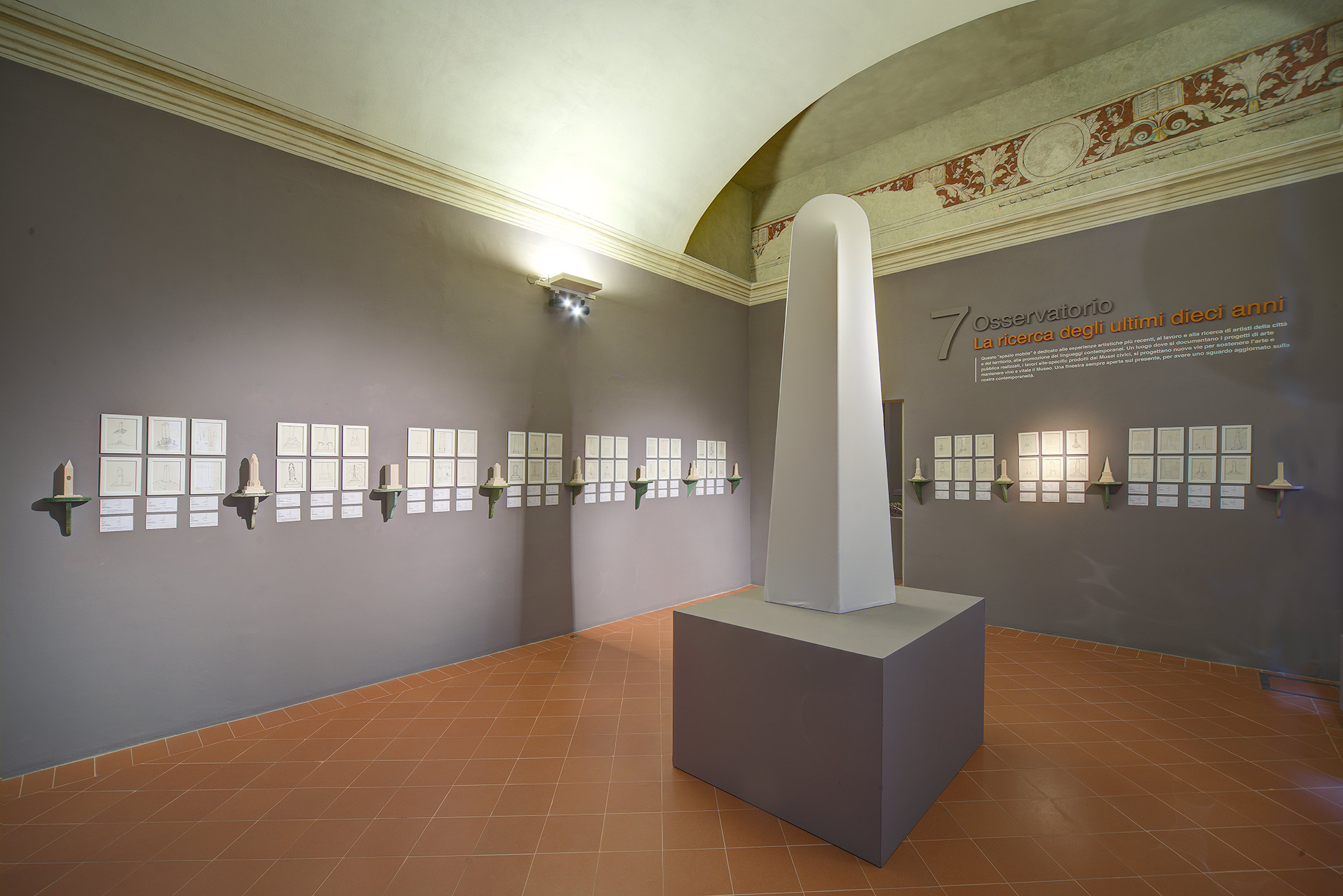 The obelisk that participants tried to draw by memory, here seen in its original position on an early 1980's postcard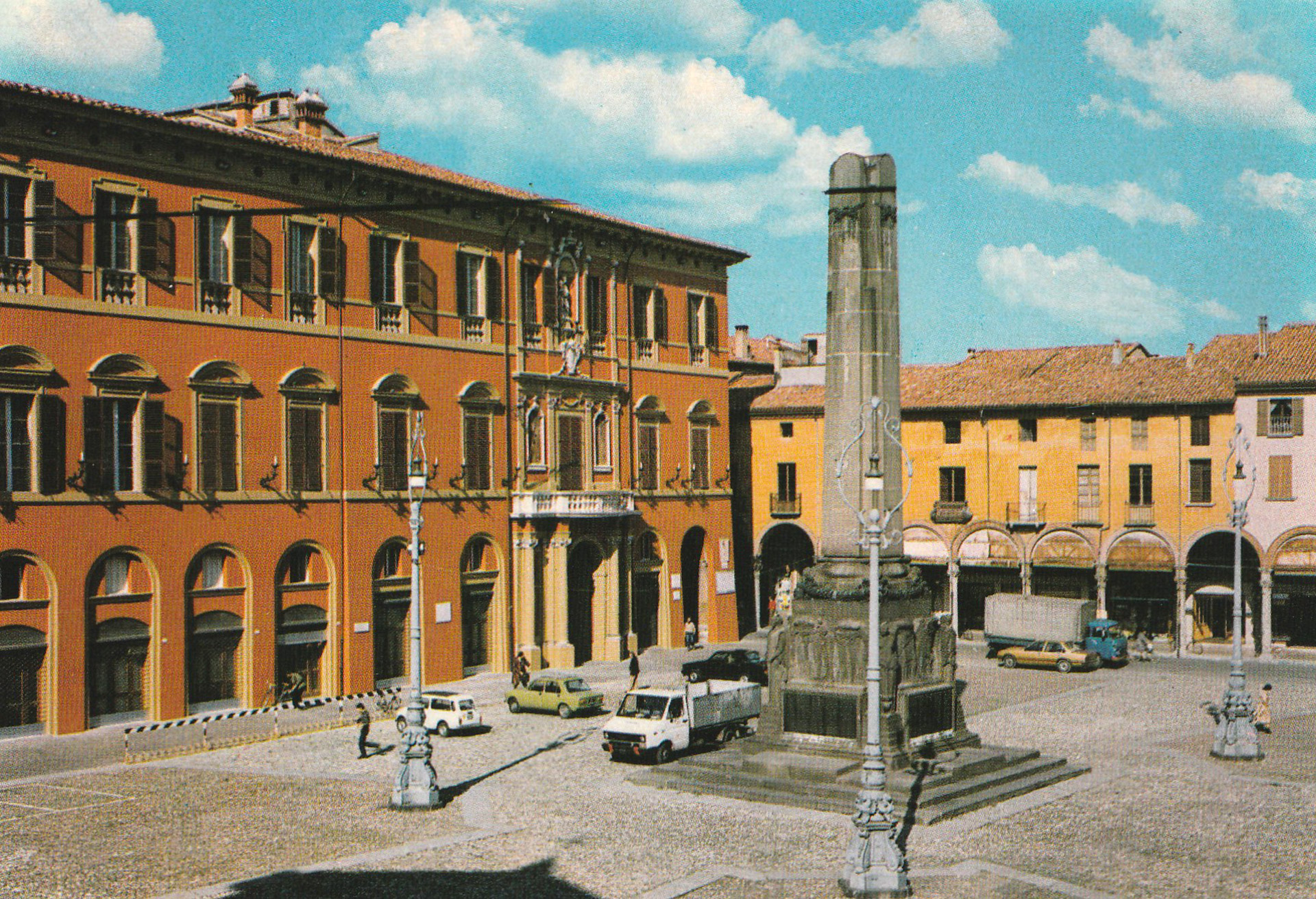 The obelisk in its current position photographed in 2017
Nonumenti is a series of four sculptural objects. These objects are tributes to what I consider 3dimensional icons from the city of Imola. They are four completely unrelated elements that were chosen for different reasons. The act of symbolically bringing them to the museum is supposed to underline how in certain contexts they can be easily identified as works of art.
The Kazuki lamp (not as tall as the giant replica I made for the exhibit) was designed by Kazuhide Takahama  in 1976. It was manufactured in Imola by Sirrah.
"Mimesi di un armadio elettrico" is a tribute to a humble, mediocre and unintentionally ridiculous object: an electric closet covered in adhesive camouflage vinyl, located in via Don Bughetti, Imola.  The work is a collaboration with textile and pattern designer Isotta Sabbioni. It was donated to the museum and is still on display today as part of the permanent collection.
The exhibit featured a replica of the Valvola Antisismica by Pierluigi Ighina (1908-2004) who was a controversial and unorthodox scientist who lived in Imola. The object is courtesy of Domenico Caputo.
The last of the four Nonumenti is a homage to another inventor from the town of Imola called Roberto Mezzini. Still living at the time of the project and now deceased. The grille that protected his front door was a bed-base. Behind it he displayed a copy of his bachelor degree. My own version of the vertical bed grill hangs in front of my "artist's statement" which is my signature to the entire Monumenta project.
The third part of the show is also crowd sourced. I do not ask for drawings in this case but for personal memories. My intention is to investigate the most private dimension of public monuments. Citizens of Imola were asked through social media to participate by sharing with me their individual memories linked to specific monuments of the town. I then took pictures of some of the monuments that are linked to particularly interesting stories and tried to leave a graphic trace of them. Public becomes private and then goes public again through this series of post cards that are made available to visitors to take home. On the back each one presents a personal memory story and the name of who shared it.
unknown author "Monumento a Francesco Azzi" – 1940's
giardini di San Domenico, Imola
<<Azzi, a soldier who died very young, did not have any special merits, but his influential family managed to have a public monument dedicated to him. I had no idea he was a fascist military until one day I googled his name to discover who he was. I doubt the pigeons who've been crapping on him all this time know either. Or do they?>>   Loris
Mauro Andrea, "Fontana di piazza Mirri" – 2001
piazza Mirri, Imola
<<Andrea had a project in mind which was supposed to involve many artists. Unfortunately he died before it could be be developed, but with Andrea we did have fun filming a promotional video for that project. The final scene is the departure of a space ship. We filmed it using his public fountain as the setting.>> Stefano
Arman, "Rampante" – 1999
via fratelli Rosselli, Imola
<<My three year old son is actually the person who finally made me appreciate this monument. He loves toy cars and sees it as the most beautiful thing.>> Francesca
"Monumento al partigiano" – 1946
(post WWII modification of a monument by Angelo Biancini,
dedicated to the Legionnaire, 1935 ca.)
piazzale Leonardo da Vinci, Imola
<<When I was a child my father brought me to see the monument and pass on to me some stories about local partisans. I told him I was puzzled about the nudity of the statue: wouldn't a partisan fighter be fully clothed? So he taught me also about classical  sculpture on that day.>> Claudia
Coop. Edificatrice Pedagna, "Casa – famiglia – lavoro" – 1985
via Puccini, Imola
<<In its early years the bas relief  had a fountain next to it that completed the little monument. My grandfather convinced me it would be the perfect place for my goldfish so they could have a bigger home. I remember the fun while I watched them swim. The day after they were no longer there.>> Silvia
This last work shares the same space with Censimento sentimentale: it is also aims at stressing the weakness of  the border between what is public and what is private. For Souvenir Apocrifi the profiles of a series of local monuments (three by Giovanni Bellettini and one by Ferdinando Forlai) were machine carved into four 100X70cm HDF panels. The resulting shavings were collected, bagged, labeled and given to visitors as souvenirs in a fictional bookshop.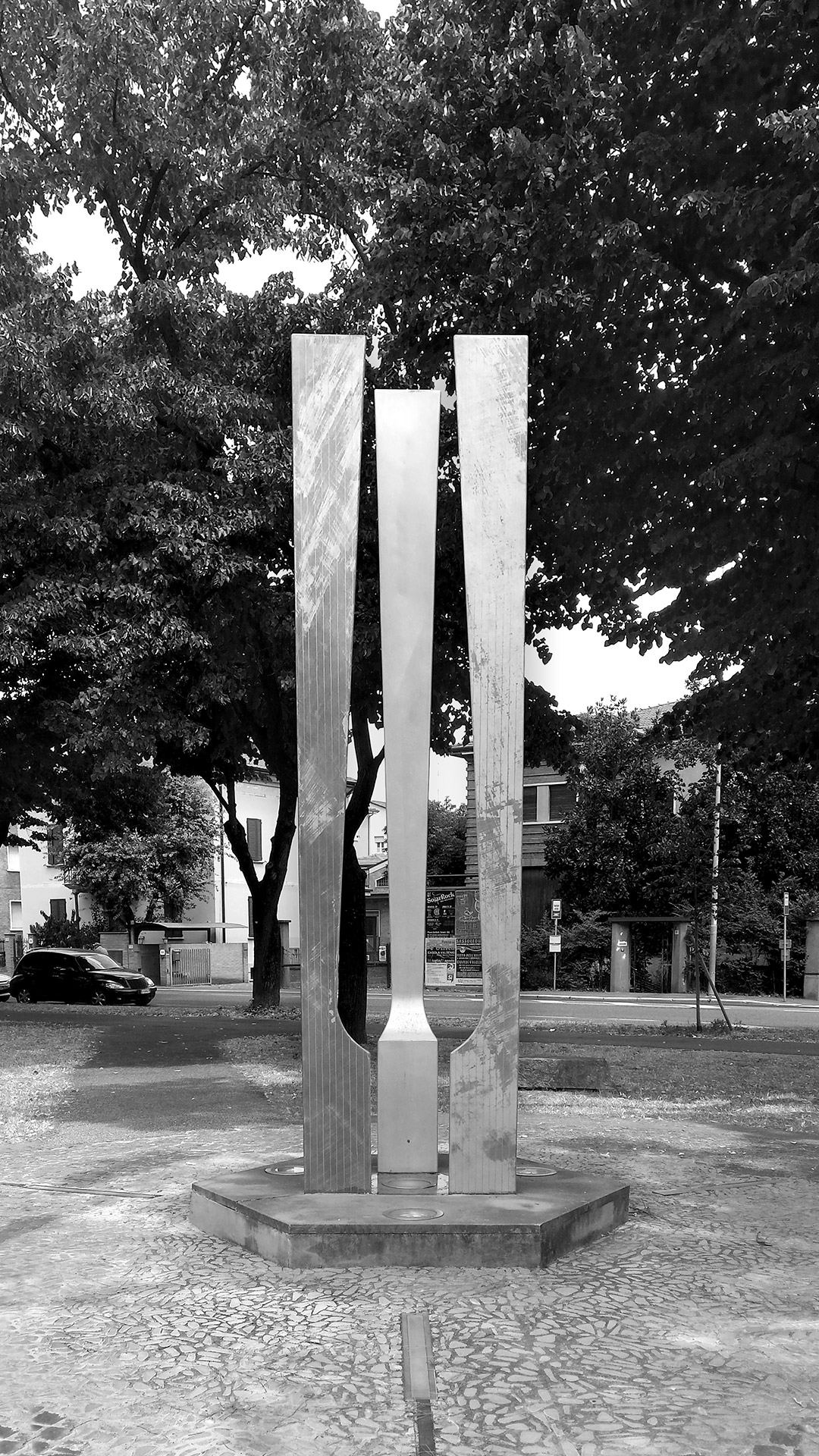 Giovanni Bellettini "Monumento ai caduti della Polizia di Stato" – 2004
pineta di via Fossatone, Imola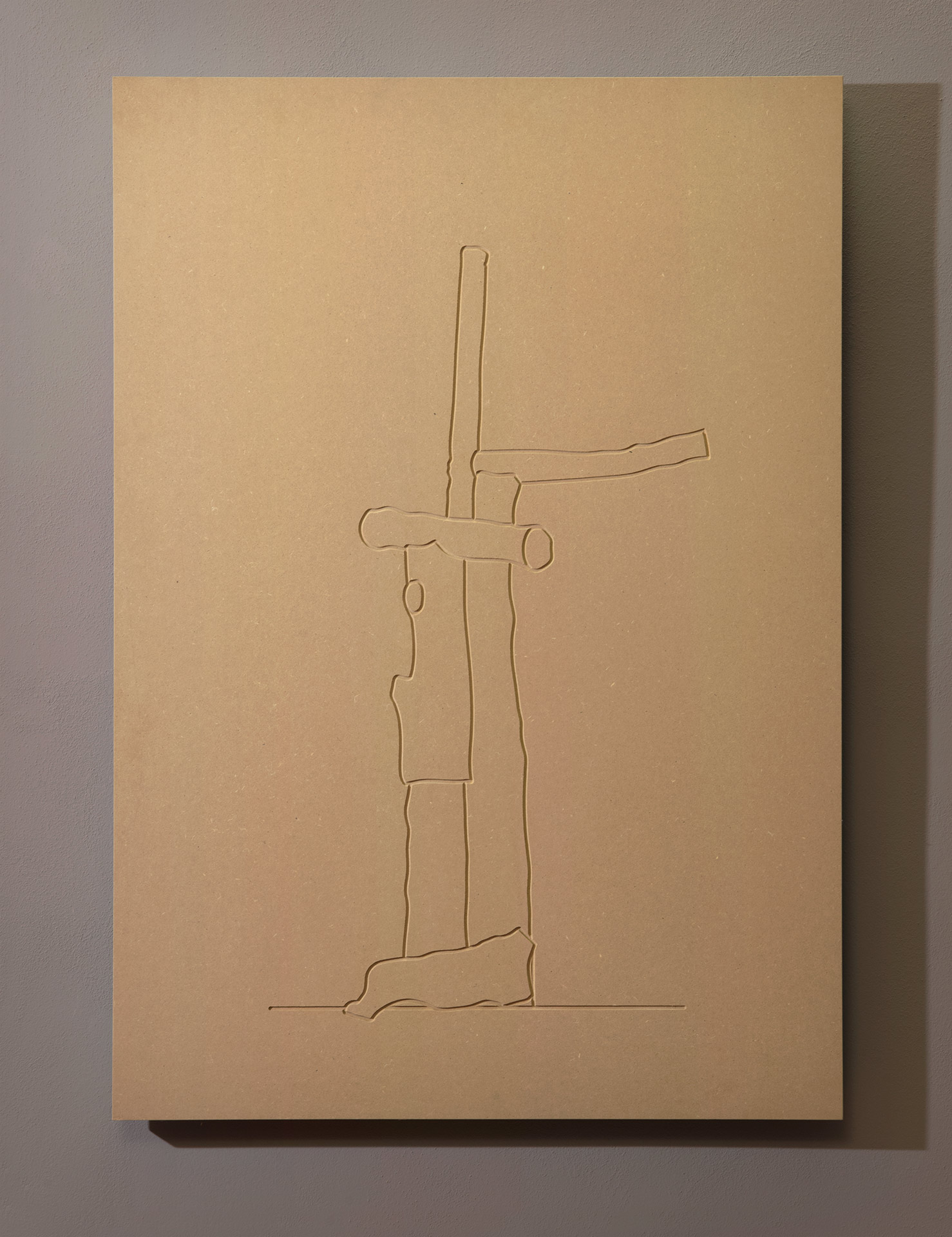 Giovanni Bellettini "Monumento a Chico Mendes" – 1990
via Santerno, Imola
Giovanni Bellettini "Monumento ai Maestri del Lavoro" – 2004
incrocio via Ca di Guzzo – via Zanardi, Imola
Ferdinando Forlai "Monumento a Gilles Villeneuve" – 1983
via J.F. Kennedy, Imola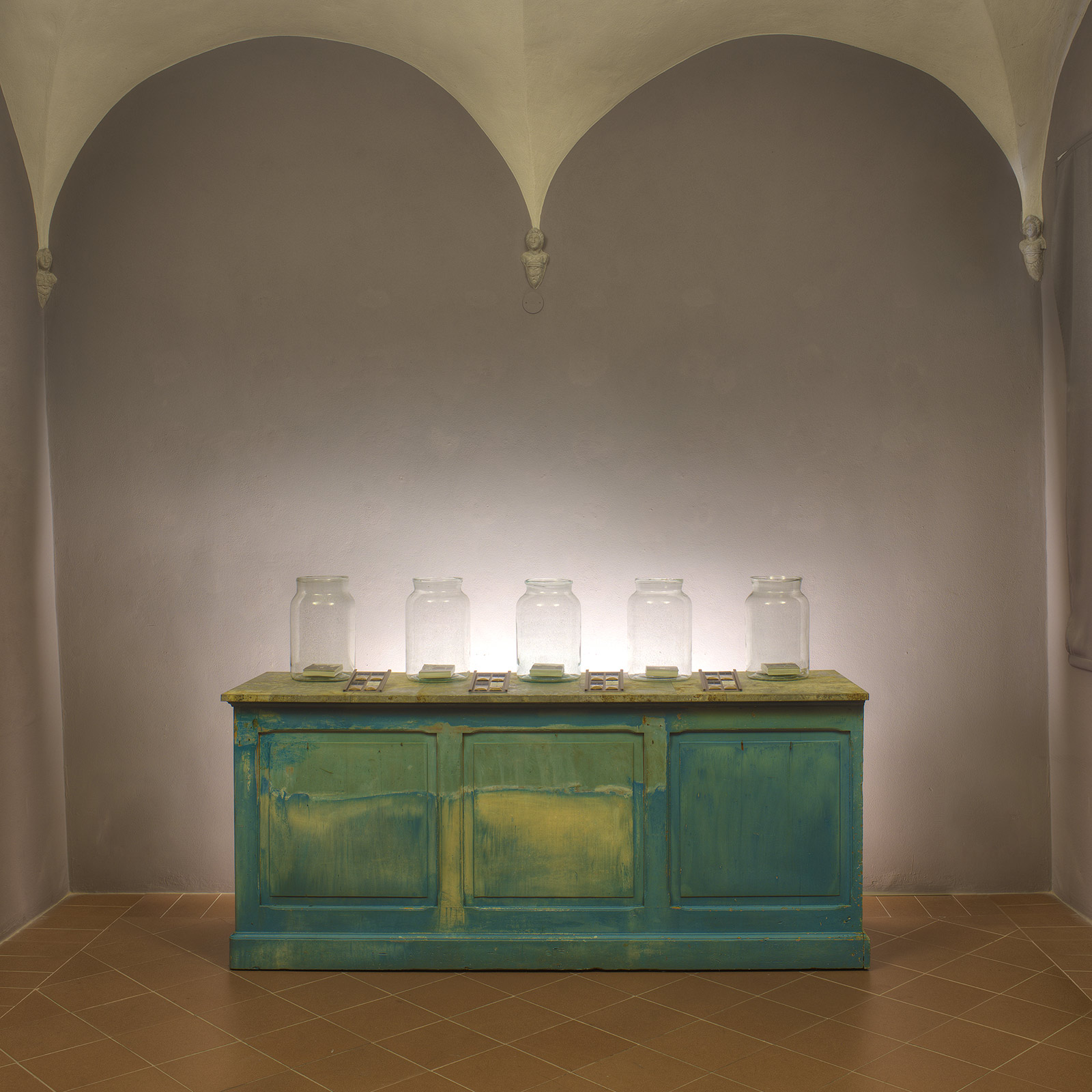 Throughout the whole residency I kept a diary of my progress. Below is a selection of pictures which I find significant. They were not all shot by me. Some are very rough (especially the ones I took with my phone).
from the making of "Sala dell'Obelisco"
from the making of "Mimesi di un armadio elettrico" from the "Nonumenti" project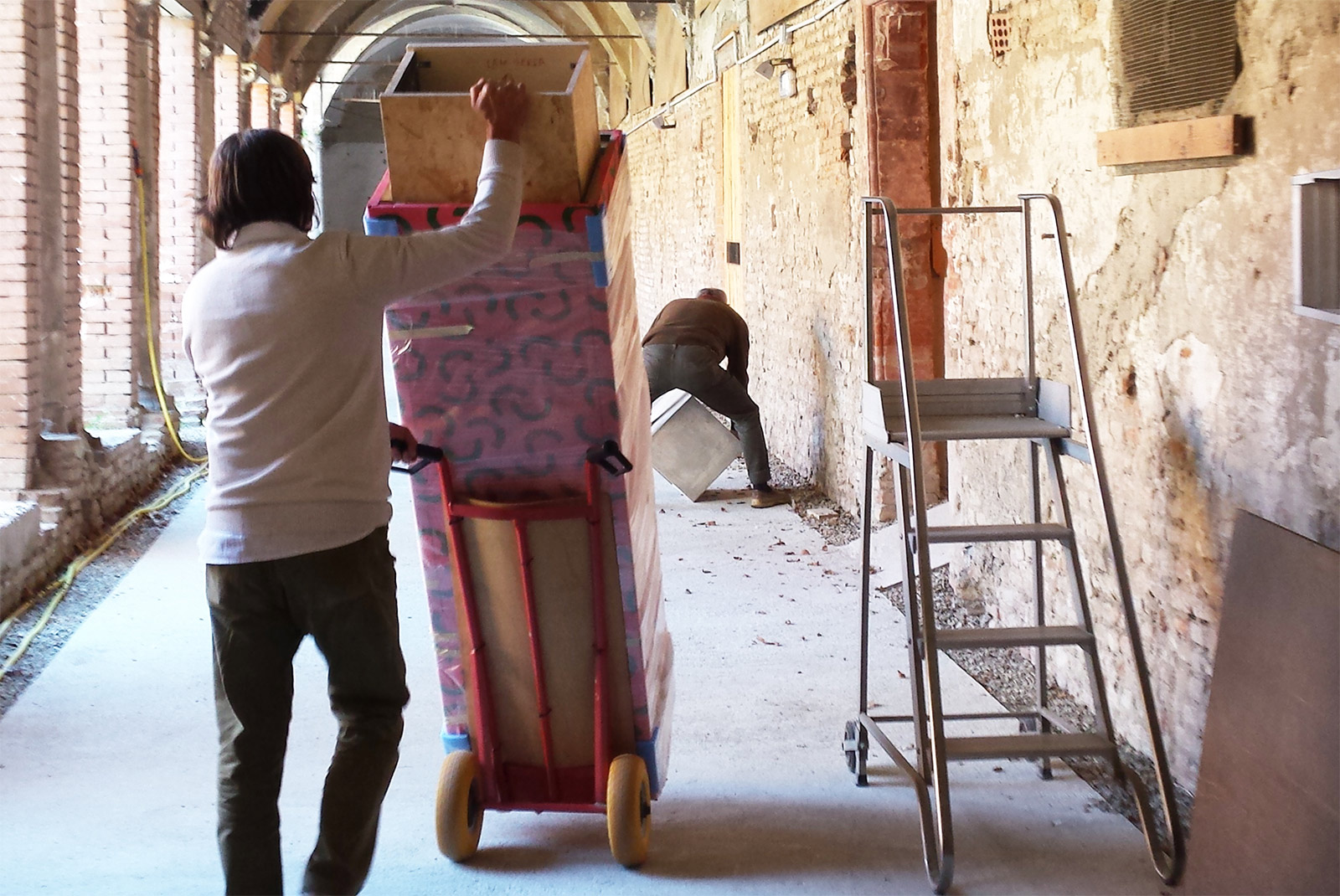 from the making of "Souvenir Apocrifi"
The first big Thank you goes out to you for scrolling so far down!
I will then try to credit each and every person who collaborated with me throughout this residency:
Claudia Baroncini, museum curator in charge of the residency program.
Isotta Sabbioni, the stylist who designed and made the textile backdrop of "Mimesi di un armadio elettrico".
Sergio Sabbioni, father of Isotta and professional painter who painted the cabinet, perfectly matching the color of the fabric.
Davide Mariani, founder of All'Origine, who lend me wooden shelves, glass jars and that big wooden counter with metal top.
Domenico Caputo who let me borrow his miniature replica of Ighina's sysmic valve.
Paolo Ragazzi, product designer and former student of mine who milled the four HDF panels from the "Souvenir Apocrifi" series on a CNC machine.
Cludia Pedrini, director of the San Domenico Museum
Oriana Orsi, curator who kindly shot some of the pictures above
Sergio Orselli, photographer who shot pictures of the exhibit before and during the opening
Mirco Luminasi and Doriano Dall'Osso, the museum workers who helped me overcome the many practical and technical challenges of this project.
Marco Montanari from the REDA furniture workshop, who manufactured the giant replica of the Kazuki lamp
V.C. s.r.l. cement factory who manufactured the base for "Mimesi di un armadio elettrico"
and of course all the participants who drew obeliscs by memory and shared personal memories for the "Censimento Sentimentale" project.